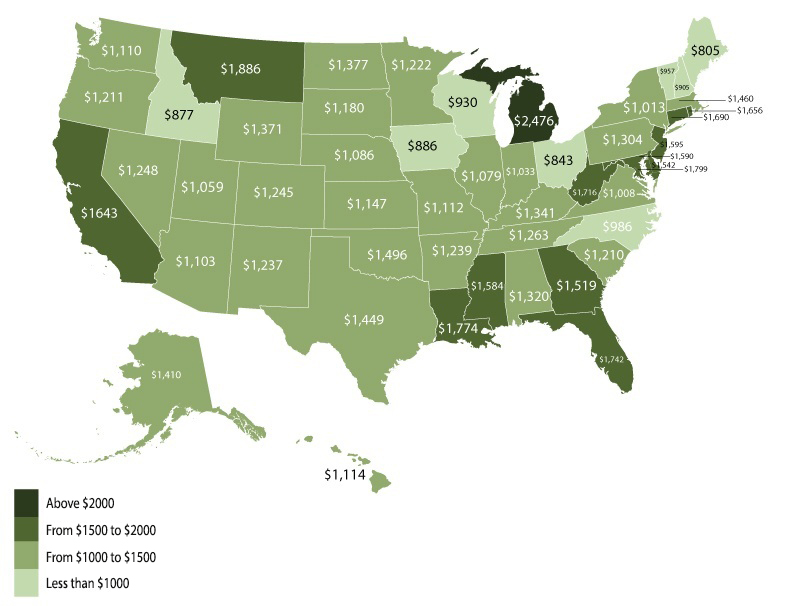 Types of Car Insurance Coverage
---
Your ZIP Code:
With such a variety of car insurance coverage types, it's rather hard to find the one, meeting your needs completely – we are here to help you with this! We will describe the main kinds and determine their features so that you could decide on something special and fitting you.
Basic Coverage Types
All types of coverages are available for consumers and the cost becomes higher the more we choose. To estimate the cost, consumers may use car insurance calculators that may help to choose better deal.
The basic car insurance types are presented by 9 coverage plans – together they provide the broadest protection from the most common and frequently happened events. Still, most of them are considered as optional what may cause the growth of premiums.
---
Liability coverage exists to pay for things that were damaged because of third parties of an accident, while you are at fault of it. It's noteworthy that that it doesn't cover any kinds of expenses or medical costs. To drive a vehicle legally, most states and companies will require a minimum amount of this coverage. Besides, it goes for cases when you drive the car yourself or when another person makes it with the help of your permission.
Property damage liability supposes the coverage when you are guilty of an accident and your car caused damage of someone's property. Thus, it doesn't include damage of your property. Still, many states foresee different degrees of coverage to specify which damages are covered particularly.
Bodily injury liability comes into a play in case when you are found at fault what lead to injury of some party. Unfortunately, it doesn't cover your own injuries or those who drove your vehicle. Therefore, this coverage pays for physical therapy or another type of medical treatment funeral expenses, any pain, bills, loss of work, and legal representation.
Comprehensive coverage applies to a wide range of losses that may happen to you. The only exception here is a car accident which is not included. All in all, it pays for damages caused for different reasons except for another car itself. They may be weather conditions like tornado, hail, hurricane, storm, fire, flood, and so on. It's worth taking into account that a situation, when your car was hit by an animal, is also covered.
Collision coverage works when your car was involved in collision, no matter what is it – a stationary object, another car, a building, etc. It will cover as repair works, so the replacement in case of a total loss. The most important feature here is that you will be reimbursed for a current value of your car, but not a price of the purchase.
Theft and fire coverage goes for cases when your car was burned or stolen as the name says. According to statistical data, theft coverage is chosen by drivers less often since they turn to it only when it happens to them. As for other possible redundancies, floods, hail, vandalism, and other cases will also be included in it. Moreover, it goes for situations when you got in accidents with an uninsured driver with just one term that you are not guilty of.
Personal injury protection, more known as PIP, constitutes a kind of no-fault coverage. In some states, it's connected with medical insurance since it covers about 80% of known medical expenses like funeral costs or rehabilitation.
Underinsured driver coverage protects you when you take part in an accident with another driver who carries the minimum liability coverage. The only case it can be applied is when you are guilty.
Uninsured driver coverage is also called the motorist one and so it includes situations when you need to cover medical expenses and those costs required by your passengers. Some other options are the coverage of damage to your car and its reimbursement for a rental vehicle.
Companies That Offer Car Insurance
Though each of 50 states and other territories provide their own regulations and minimum coverage requirements, there are some similar rules and equal rates, depending on the definite company. That is why the most preferable way is to compare car insurance by state.
Allstate is considered to be one of top rated car insurers in the nation that offers a wide range of services and policies. It disposes of competitive rates, accident forgiveness, and other noticeable benefits.
State Farm Insurance renders good discounts – up to 40%.
Geico policies are available in all 50 states that are recognizable for their cute ads in the air. Its advantages are a great customer service and cheap rates.
Progressive is known as a multi-dimensional company, offering as auto plans, so those for bikes, segways, watercrafts, and snowmobiles. It has the rating of A+ which rates for an excellent quality of services.
Bearing the name of one of the biggest financial organizations, Nationwide has become an influential insurer nowadays that keeps clients happy by rendering low-cost options.
AA Auto Insurance appears to be a federation of auto clubs that offers as car policies, so some others connected with towing, first aid, and so on.
---